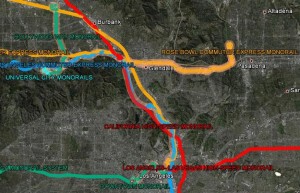 The Excursion Tour describes a network of portions of monorail system guideways that may be linked and ridden by passengers seeking access to one or more entertainment, cultural, recreational or tourist venues located in Burbank, Hollywood, Pasadena and Downtown Los Angeles, as well as, Century City and Santa Monica. Suggested as an off-rush hour, tourist and entertainment-oriented access opportunity, the venues described are identified and interlinked by portions of extended monorail guide ways presented in the American Monorail's website's American Monorail Routes and Monorail System Implementation sections.
Accessible at any station along the Tour route, multiple monorail services potentially link Burbank Airport, Universal Studios Hollywood, the Los Angeles Zoo and Autry Western Museum in Griffith Park, Glendale Galleria-Americana, Pasadena Rose Bowl, Los Angeles City Hall, Olvera Street, Union Station, the LA Music Center, Museum of Contemporary Art, Disney Concert Hall, Broad Art Museum, Seventh Street subway station, LA Live-Staples Center- Farmers Field NFL Stadium, Los Angeles Convention Center, Century City and the many attractions of Santa Monica, as well as, hundreds of hotels, restaurants and retail businesses that serve the venues and attractions.
This alternative use of commuter and high volume monorail service routes and facilities would offer visitors, tourists and local residents efficient and unique travel opportunities among some of Los Angeles' and Southern California's most attractive entertainment, recreation, vacation and travel destinations.
Proposed Route Run Path Video
Current Projects & Initiatives

News

Recent Posts

Recent Comments