Last: Retention of Local Government Planning and Implementation Authority
Local governments and transportation agencies can limit exposure and commitment of public funding and indebtedness, as well as, growing government bureaucracy, by structuring all phases of system design, development and operation as distinct, independent aspects of overall project implementation plans. Public funding committed to development of monorail systems can be limited to the planning, environmental assessment, right of way and construction phases of system development, with short-term debt service facilitated through federal transportation grants and matching funds. Operation and maintenance of newly-developed monorail systems could be subsequently conducted by independent transportation service corporations responsible for maintenance and operation of all guide way structures, station and maintenance facilities, rolling stock and operational components of the monorail systems, under separate funding structures; as government agencies and public entities disengage.
American Monorail-proposed monorail stations at the Los Angeles Convention Center, NFL stadium and adjacent LA Live-Nokia-Staples Center complex, and potentially fronting the Marriott- Ritz Carlton hotels, would appear to offer significant enhancement to the AEG-proposed $1.5 billion plan to build an NFL stadium in their extensive multi-use mega-complex in Downtown Los Angeles; while AEG would effectively underwrite and guarantee payment of debt service on $350,000,000 of LA City-issued construction bonds for expansion of the adjacent Los Angeles Convention Center. The public-private development opportunities presented to the Los Angeles Convention Authority, developer AEG, and the National Football League, are potentially of great benefit to all parties, while the financial benefits of the cooperative project would extend beyond the boundaries of the site to enhance and support the Los Angeles business, travel, tourism, convention, restaurant and entertainment industries, as well as, redevelopment, infrastructure, public works and transportation planning agencies, and the tax base of municipal government.  Seamless integration of monorail stations into stadium, entertainment and convention center developments could optimize every aspect of the venues, connecting a wide range of neighborhoods, population centers, subway and rail stations across the city to the heart of downtown Los Angeles; while addressing and solving most of the traffic congestion, parking and access problems presented by developments and activity centers of this magnitude.
An innovative 1999, joint financing agreement between developer AEG and the City of Los Angeles established an AEG guaranteed payment of any deficit incurred in the city's annual payment of Staples Center development bond principal and interest. Under the agreement, the city would issue AEG an invoice accounting for the income generated by the arena, credits generated from negotiated items such as local hiring, and the amount needed to cover that year's bond debt service. The agreement required AEG to pay any deficit in annual bond service revenue. Contributing significant strength to Staples Center development bonds, AEG's guarantee and contributions were revised in 2003, with AEG prepaying $16,500,000 to cover its anticipated payments over the life of the bonds. The 1999 joint financing agreement is a prominent feature of AEG's commitment to support the city's issuance of $350,000,000 of development bonds for construction of a new Convention Center hall adjacent to its proposed NFL stadium in its LA Live-Staples Center development complex.
Monorail builders may also enter into joint development ventures with large-scale urban developments such as the $3 billion Grand Avenue project in downtown Los Angeles; which is, itself, a multi-agency, multi-government joint venture with numerous private development and commercial entities. The project, centered on a 16-acre Civic Park connecting Los Angeles City Hall with the LA Music Center and several of the city's most prestigious and attractive art and cultural venues extending along Grand Avenue, could be greatly enhanced by a monorail system that could deliver thousands of patrons to the doorstep of the Music Center, Civic Park, and Los Angeles City Hall. The American Monorail- proposed Santa Monica-Los Angeles Monorail would connect and transport riders some 15 miles from the world-famous tourist destination of Santa Monica across West Los Angeles, Midtown, and Koreatown to the LA Convention Center, LA Live, Staples and Nokia centers and the heart of Downtown Los Angeles before arriving in front of the Disney Concert Hall and Dorothy Chandler Pavilion, at the center and focal point of the $3 billion Grand Avenue Project. The monorail's strategically located stations could provide the Grand Avenue Project's greatest catalyst to date. As with the AEG-NFL stadium-Convention Center project, and a Wilshire Grand, Korean Airlines-planned $1.2 billion hotel and office tower development four blocks north of LA Live, monorail design, construction and service can be introduced and integrated into existing, as well as, developing settings with minimal intrusion or impact, while bringing dynamic new levels of activity and access to venues of all types.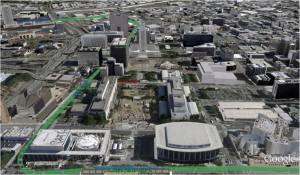 A more comprehensive level and type of joint venture opportunity is likely to emerge between the Grand Avenue and AEG-Stadium-Convention Center development plans, that would be greatly enhanced by a proposed monorail directly linking the venues along two miles of downtown Figueroa Street, and continuing across LA Civic Center to a Union Station central monorail terminal. The American Monorail-proposed, four and one half mile Downtown Monorail would connect LA Convention Center, NFL stadium, LA Live, Ritz Carlton, Marriott, Wilshire Grand and Bonaventure hotels, LA Music Center, Civic Center Mall and LA City Hall monorail stations with the LA region's rail nexus at Union Station. With the interconnecting monorail link serving as a catalyst and common design element for the multi-billion dollar simultaneous development of the planned projects, downtown LA could facilitate a new wave of modern urban growth that could rejuvenate the City's economy, and complete the development of Downtown Los Angeles.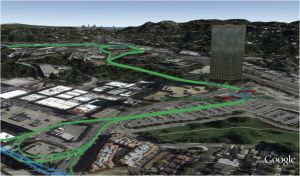 American Monorail's proposed Universal Studios monorail loop, extending from, and linking the Universal Studios Hollywood theme park and planned $3 billion expanded multi-use development to the proposed Los Angeles River Monorail between Warner Center and downtown Union Station, and existing Los Angeles Metro Rail Subway station, presents mutually beneficial joint development opportunities to Universal and monorail developers alike. Providing very attractive and high capacity access to the heart of the theme park, a well-designed monorail system could also alleviate or mitigate much of the anticipated street traffic and congestion that the planned multi-use development of the extended Universal property would create in the surrounding neighborhoods and community.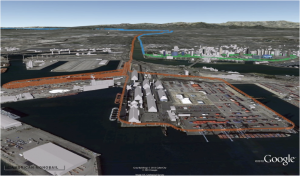 The American Monorail-proposed Long Beach Port Cargo Monorail system, that would directly link the port with the extensive Burlington Northern Santa Fe Railroad yard 20 miles inland from the port, is a modern, cost effective, environmentally sound alternative to inefficient and often congested trucking, and the Alameda Corridor, which connects the Port of Los Angeles with rail yards near downtown Los Angeles by means of a 20-mile, grade separated, exclusive railroad corridor. While the $2.4 billion, three-track Alameda rail corridor has reduced the typical freight train trip between the port and downtown from four hours to 30 minutes, and substantially reduced traffic delays and congestion along its entire route, revenues from cargo operations have fallen short of levels needed to service the $1.7 billion debt incurred by the Alameda Corridor Transportation Authority in constructing the project. Further compounding the debt service short fall, payments are structured such that annual debt service will steadily increase from $102.5 million in 2011, to $117.1 million in 2012, and grow to $198.6 million in 2033, while corridor income has steadily decreased, from $96 million in 2007 to $76 million in 2009. Without a massive restructuring of debt, and substantial subsidy from other sources, such as the Los Angeles Port Authority, the Alameda Transportation Corridor Authority will likely begin to default on debt service and payments to its bondholders.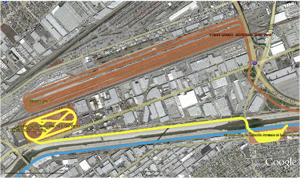 Twenty miles inland from the Port of Long Beach, the extensive Burlington Northern Santa Fe rail yards would be the destination and transfer point for containers transported by the American Monorail-proposed cargo monorail system. Significant additional opportunities for development of monorail research, development, manufacturing and testing facilities are present on a 42-acre land parcel adjacent to the BNSF yard, and for development of a 15-acre monorail maintenance facility on LA County-owned property immediately adjacent to the American Monorail-proposed LA-Long Beach Commuter Express Monorail running along the opposite side of the Los Angeles River from the Cargo Monorail. These monorail manufacturing and maintenance facilities development opportunities extend the joint development potentials of the cargo and passenger monorail systems beyond the initial Port Authority/port operator- Flood Control Districts-BNSF joint venture, to include monorail manufacturers and their numerous contributing component and systems suppliers and eventual monorail service operators, as well as, financial institutions underwriting and financing all aspects of monorail development.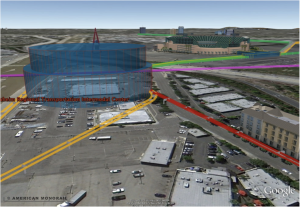 The American Monorail-proposed Orange County monorail network, focused on a monorail system nexus at the Anaheim Regional Transportation Intermodal Center, would bring the resources and mass transportation needs of the Orange County Transportation Authority together with the robust private entities of the Los Angeles Angels of Anaheim, Disneyland, The Block at Orange, the Anaheim Convention Center and numerous commercial, entertainment and hotel interests that could significantly benefit from mutual and cooperative joint development and operation of a monorail system serving the Anaheim and surrounding Orange County area. The multi-colored monorail guide way symbols above illustrate the interface and interconnections among American Monorail-proposed Commuter Express, High-Speed and local venue monorail systems, as well as, Metrolink and Amtrak rail services linked in an American Monorail-designed ARTIC Station.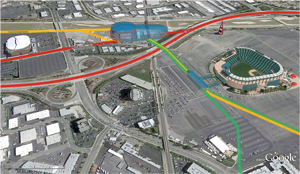 A more generalized joint planning and development venture proposed in American Monorail's Organizational Forum would bring together local government, community interests, financial institutions, monorail industry and local land developers in a Community Transportation Plan Development Forum that could serve the diverse interests of all participants in planning and implementing monorail systems and services.
Next: Formation of Private Operational and Development Entities
Current Projects & Initiatives

News

Recent Posts

Recent Comments