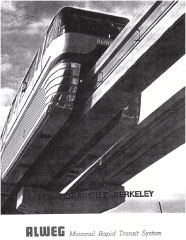 On June 4, 1963, Alweg Rapid Transit Systems of California, Inc. submitted "a proposal to finance and construct an Alweg Monorail rapid transit system 43 miles in length, serving the San Fernando Valley, the Wilshire Corridor, the San Bernardino corridor and downtown Los Angeles" described as a "turn-key", completed and operating system that would be financially self-supporting in paying off all expenses incurred by its construction and implementation through MTA revenue collection, to be turned over to the Los Angeles Metropolitan Transit Authority for service operations.
Furthermore, upon MTA's acceptance of the proposal, Alweg agreed to conduct financial feasibility studies of monorail lines through Vernon, Huntington Park, South Gate, Lynwood and Compton to Long Beach, downtown Los Angeles to Los Angeles International Airport, and extensions of the first three lines.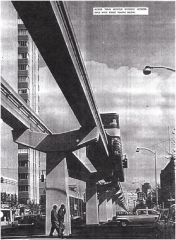 Financing of the entire 43-mile first phase monorail system through issuance of tax exempt revenue bonds was calculated to fully pay off the project for a total of $187,500,000 ($1,430,784,000 in 2013 dollars), roughly $33 million per mile of "double track beamway", with 42-three car trains, storage and maintenance yard, three terminal loops, a signaling and control system, 25 power substations and all necessary equipment. This proposal not only fit the definition of a turn-key project, but included a rigorously calculated plan for retirement of the entire debt incurred in building and implementing the monorail system and service with fare box revenues, that would not burden the taxpayers of Los Angeles County or the State of California.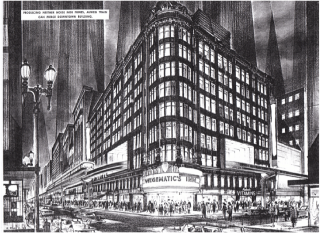 The state of monorail engineering and technology in 1963 was advanced to a level such that credible illustrations of monorails passing through buildings, and virtually any other setting, projected futuristic images of monorail systems' capabilities and potentials that could actually be built and put into operation within two to three years. Fifty years of advancement in monorail design and engineering, and service to over 2 billion monorail riders, have honed monorail systems into the world's most elegant, efficient and cost-effective form of mass transportation of the 21st Century.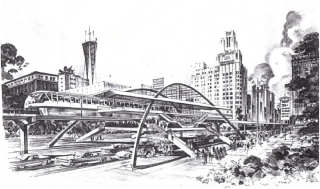 Architectural images and settings are as familiar today as in the 1963 monorail proposals, and equally as impressive in their potential to significantly improve the mobility of residents and commuters in local, as well as, distant parts of the vast Los Angeles metropolitan area.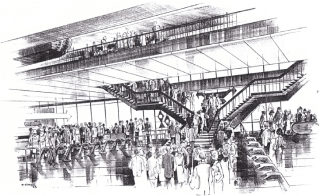 Integration of monorail facilities and services into building interior spaces is a unique adaptive capability of monorails' design and operating characteristics.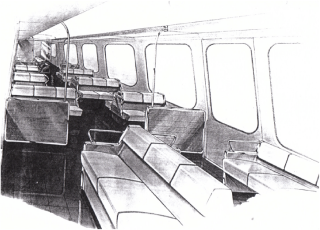 Monorail designs and interiors have been further modernized over the past 50 years, and continue to promise and deliver the best ride, with best view in town.
Extensions of the original proposed 43-mile Alweg monorail system would project beamways and services into the West San Fernando Valley, to Long Beach, Los Angeles International Airport and San Bernardino; more than doubling the extent of the system's monorail services.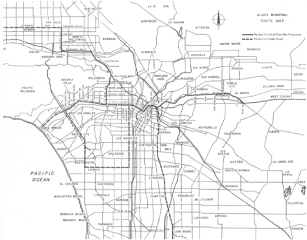 A complete formal proposal to build a 45-mile, suspended monorail system, to run between Panorama City and Long Beach through Los Angeles, was submitted to the Los Angeles Metropolitan Transit Authority in 1953 by Gibbs and Hill Inc. The initial costs for the system's construction and equipment were estimated at $137,000,000 ($1,198,130,000 in 2013 dollars), or roughly $27 million per mile of guide way in 2013.
A second monorail line from North Hollywood to Compton was proposed at a cost of $111,000,000 ($971,000,000 in 2013 dollars).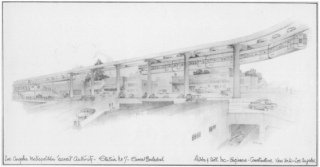 Current Projects & Initiatives

News

Recent Posts

Recent Comments