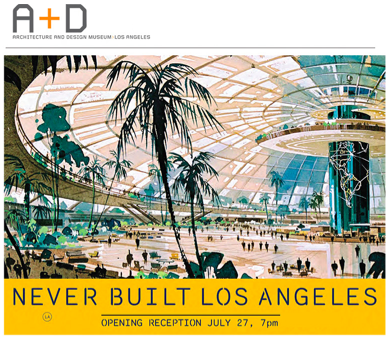 From July 28 through October 13, the Architecture and Design (A+D) Museum presents a compelling new show about what "could have been" for Los Angeles. A thorough compendium of projects that only saw the drawing board, the exhibition asks: With Los Angeles having so many great architects, why do they fail in urban innovation? Why were these projects never built? Should some of them be revisited today?
None of the projects beg that question more than those regarding monorails. The exhibit makes note of two proposed monorail systems, in 1953 and 1964, that would have been completed without public funding or subsidy, yet were not adopted or supported by local governments or the Los Angeles Metropolitan Transit Authority, therefore representing missed opportunities in LA's "Never Built" history.
For more details on Los Angeles' "never built" monorails, please read the American Monorail Project's Monorails: Historic Visions of the Future.
For a quick reference as to the advantages of monorails, please visit the American Monorail Project's Monorail Systems Advantages page.
For more information about Never Built: Los Angeles, please visit the A+D Museum website.
Never Built Los Angeles
July 28 through October 13, 2013
A+D Museum
6032 Wilshire Blvd.
Los Angeles, California 90036
http://www.aplusd.org
Current Projects & Initiatives

News

Recent Posts

Recent Comments