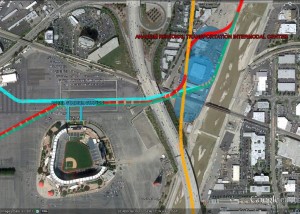 The Orange County Transportation Authority-planned Anaheim Regional Transportation Intermodal Center (ARTIC) has been redesigned to serve as a nexus of monorail systems and venues serving Southern California. Merging American Monorail's proposed High-Speed, Commuter Express, local community and special venue monorail services in a common station facility, the ARTIC station complex provides a seamless melding and transferability among several monorail services and systems, as well as, interface with existing Metrolink and Amtrak rail services.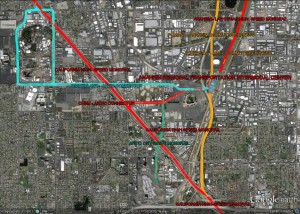 The Anaheim Regional Transportation Intermodal Center would connect and link regional commuter, intercity and local monorail services and venues in a multisystem monorail station complex. Connection and transfer linkage among monorail systems in a common, multi-platform station facility provides seamless transfer and transitional opportunities to a wide range of monorail system users and destinations, including Disneyland, Angels Stadium, Anaheim Convention Center, Ontario International Airport and the cities of Corona, San Diego, Los Angeles and Las Vegas.
ARTIC is an American Monorail current initiative. Read more.
Current Projects & Initiatives

News

Recent Posts

Recent Comments