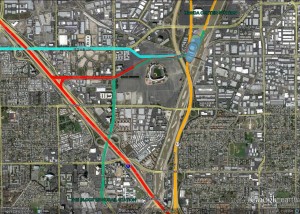 The City Drive Connector is a two-mile long local monorail system extending from the ARTIC facility north along the Santa Ana River to the Honda Center and south to the Anaheim Stadium complex before continuing south along The City Drive to The Block shopping mall.
The Honda Center Monorail Station is located east of the Honda Center on the Santa Ana River. The ARTIC facility is located east of the CA-57 Freeway south of Katella Avenue. The Anaheim Stadium Monorail Station is located at the Angels facility and The Block Station is located on the west side of The City Drive adjacent to The Block Shopping Mall.
This local system serves the cities of Orange, Anaheim, and Santa Ana and provides direct access (at both the ARTIC facility and the Anaheim Monorail Station) to the ARTIC- Disneyland Monorail which serves the resort and the Anaheim Convention Center.
It crosses other monorail systems but does not connect to them. All of the systems are accessible at the ARTIC facility as well as linkages to AMTRAK, and the Metro and OCTA rail and bus systems.
In this photo, the City Drive Monorail is shown in green, the ARTIC- Disneyland Monorail is shown in teal, the California High-Speed Monorail is shown in red, and the Pomona- Anaheim Commuter Express Monorail and the Riverside- Anaheim Commuter Express Monorail are shown in gold.
Current Projects & Initiatives

News

Recent Posts

Recent Comments