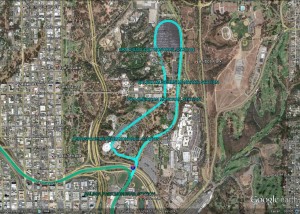 The 2.62-mile long Balboa Park Monorail is generally a single-guideway loop system serving the San Diego Zoo and Museum facility. It begins at the Balboa Park Monorail Station on the proposed San Diego Monorail and proceeds northeast along Park Boulevard, west through the major parking areas to the San Diego Zoo entrance, and then circulating south among the park's attractions, exhibits and venues, including the San Diego Zoo, Museums, Arboreta, Gardens, Pan American Exposition and the Old Globe Theater.
Proposed Route Run Path Video
Note: The path from times 2:05-3:27 represents the Balboa Park Monorail. The rest of the video shows the San Diego Monorail route.
The stations are located as follows:
| Station | Location |
| --- | --- |
| Balboa Park Monorail Station | Above Park Boulevard south of the I-5 Freeway |
| Balboa Museums Monorail Station | Above the west edge of Park Boulevard south of Village Place |
| San Diego Zoo Monorail Station | At the Zoo entrance |
| Pan American Monorail Station | Within the museum complex south of El Prado |
| Aerospace Museum Monorail Station | Within the Pan American Plaza parking area south of Presidio Way |
The Balboa Park facility attracts tourists from around the world. This system connects directly to the proposed San Diego Monorail, which allows access links to various public transportation facilities within the City of San Diego and connects directly to the California High-Speed Monorail to provide access to Southern California and the San Francisco Bay area and connecting access to Las Vegas.
Current Projects & Initiatives

News

Recent Posts

Recent Comments