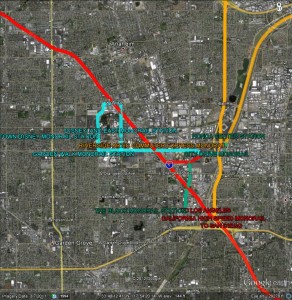 The 7.4 mile-long ARTIC- Disneyland Monorail begins at the ARTIC facility east of the CA-57 Freeway and runs west through the Angel Stadium parking areas to continue west in the median of Katella Avenue to Harbor Avenue, north to Ball Road, west to Disneyland Drive, south to Katella Avenue, and then East to Harbor Avenue to completely encircle the resort facility.
This dual guideway system connects the Anaheim Regional Transportation Intermodal Center (ARTIC) to the Disney theme park's two stations, with additional stations at the Anaheim Convention Center, Garden Walk Mall and Angels baseball stadium.

Proposed Route Run Path Video
The stations are located as follows:
| Station | Location |
| --- | --- |
| Anaheim Regional Transportation Intermodal Facility | East of the CA-57 Freeway, south of Katella Avenue, and west of the Santa Ana River |
| Angel Stadium Monorail Station | Immediately north of Angel Stadium |
| Garden Walk Monorail Station | Above the median of Katella Avenue at Clementine Street |
| Disneyland East Monorail Station | Above the median of Harbor Boulevard at the main public entrance to Disneyland |
| Downtown Disney Monorail Station | East of Disneyland Drive at Downtown Disney |
| Anaheim Convention Center Monorail Station | Above Katella Avenue west of Harbor Boulevard |
The Disneyland Resort draws tourists and attendees from all over the world. The proposed monorail system will connect directly to the California High-Speed Monorail north of Ball Road and to all of the other proposed monorail systems connecting at the ARTIC facility. The ARTIC facility also will provide direct links to AMTRAK and the Metro and OCTA rail and bus systems.
Current Projects & Initiatives

News

Recent Posts

Recent Comments