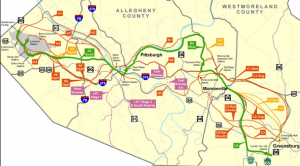 The first segment of a Pittsburgh to Philadelphia high speed monorail system extends 54 miles from the Pittsburgh International Airport to Greensburg, with intermediate stops in downtown Pittsburgh and Monroeville.
This initial Pennsylvania High-Speed Maglev Project will serve a population of approximately 2.4 million people in the Pittsburgh metropolitan area. It is the first segment of a high-speed monorail maglev system that will cross Pennsylvania from Pittsburgh to Philadelphia with additional stops in Johnstown, Altoona, State College, Lewistown, Harrisburg, Lancaster and Paoli.
The system could be extended farther East to connect to the populous Northeast Corridor, to the South to link Wheeling, Morgantown, Clarksburg and Charleston, West Virginia and to the West to connect with Cleveland and Chicago. A Northern link could include Erie, Pennsylvania and Buffalo, New York.
Current Projects & Initiatives

News

Recent Posts

Recent Comments