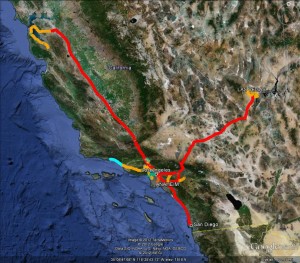 The plans described herein are guided by a recognition of the transportation needs of various communities and their extended regional constituencies, coupled with implementation opportunities presented to local governmental and private entities. These opportunities can effectively and efficiently fill the void between institutional transportation planning and funding, while strategically integrating federal funding that meets the long term financing and service requirements of communities, municipalities and regional governments.
Presented as design and planning principles applied by new organizations assembled to design, fund and implement specific monorail transportation system developments, the plans identify the strategic routes and opportunities presented to local government, community and private interests and entities that can be organized and empowered to see the projects through to completion. Mile by mile, station by station; whether a four-mile Downtown Los Angeles, Balboa Park or Universal Studios monorail, a twenty or thirty mile San Francisco, Santa Clarita or Orange County commuter monorail, or a San Francisco- Los Angeles, Orange County-San Diego or Anaheim- Las Vegas high-speed monorail system, the design principles and distinct advantages presented by monorail technology and systems are articulated in a wide range of specific monorail development plans.
At the core of every plan proposed by American Monorail are the publicly owned rights of way, in the form of streets, highways, freeways, flood control and river channels, abandoned and active railroad property, utility and public works rights of way, public recreation and other open spaces, that can be assembled and dedicated to form continuous paths for the construction of monorail guide ways and facilities. Without the cooperation and contribution of local governments and agencies holding fee title and jurisdiction over these properties, monorail systems could not be developed to their economic or functional potential.
Position Papers
Current Projects & Initiatives

News

Recent Posts

Recent Comments