New Environmental, Technological and Financing Structure
As relatively independent, publicly governed transportation entities, airport and port authorities operate well outside the main stream of mass transportation systems planning and funding. Focused on their primary operational functions and specific missions, airport and port authorities, facilities and systems are generally not considered integral components of municipal or regional transportation networks.
Case Study: Los Angeles International Airport
Notwithstanding the inexplicable failure to connect the Los Angeles Green Line rail service to Los Angeles International Airport, and the antiquated state of truck and railroad cargo container distribution systems serving the Los Angeles and Long Beach harbors, airport and sea port operations appear to be confined to their respective premises with regard to extended, off-site transportation issues and planning. However, monorails present significant opportunities to both airport and port facilities for unprecedented expansion of regional access, improved operations and solutions to environmental issues that are not feasible, or even considered by means of existing transportation technology.
American Monorail has developed and proposed the building of a monorail system that could potentially connect LA International Airport with the vast suburban communities of the San Fernando Valley, the suburban city of Santa Clarita, and a potentially completed Palmdale International Airport beyond, some 65 miles northeast of LAX. While serving the direct interests of the Los Angeles Regional Airport Authority in providing mass transportation access to LA International across one of the most intensely traveled transportation corridors in Southern California, as well as, providing a long-needed catalyst for fully developing Palmdale International Airport, the monorail system would enhance the interests of local construction industry, environmental regulatory authorities, local and state financial institutions, private business and industry, local government, and the monorail industry, as well as, local transportation agencies attempting to alleviate traffic congestion throughout western Los Angeles County.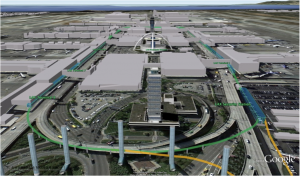 The American Monorail plan proposed to serve all LAX terminals, by means of a continuous promenade of monorail guide way, stations and covered pedestrian walkways, should prove attractive to all airlines with terminals in LAX, particularly to those planning remodeling or expansion of their terminals. Monorail station facilities could be seamlessly integrated into the design of the planned rebuilding of Tom Bradley International Terminal, and could provide incentive for upgrading and modernizing of every other terminal in the Los Angeles International Airport. This would establish a stake, and interest on the part of each airline with a terminal at LAX in the development of an airport monorail system, and form the basis for their respective joint participation in development of the system and service.
Los Angeles World Airports Authority is in a strategic position to assume the leading role in resolving the decades-old missing link between any of LA's mass transit systems and the terminals of LAX. With Los Angeles County Metropolitan Transportation Authority's multi-billion dollar rail plans continuing to come up short of the airport, and failing to propose anything other than vague, convoluted connections to LAX terminal areas, the Airport Authority should assume responsibility and leadership in completing this vital connection. Los Angeles World Airports can begin this strategic planning by reviewing the proposed specific American Monorail plans for connecting the Los Angeles Green rail line and West Los Angeles-San Fernando Valley-Santa Clarita communities directly to the LAX terminals.
Example: The Bay Area
A similar set of conditions and opportunities are addressed in American Monorail's proposed plans to build a 110-mile monorail system linking West San Francisco Bay communities from San Jose through the Silicon Valley, and extended East Bay communities across Oakland Bay Bridge to the heart of San Francisco's Financial District by means of monorail guide ways built in the medians of the most heavily traveled bay area freeways; without disrupting or causing any additional congestion on those freeways. The alternative transportation services should create significant reductions in peak hour traffic volumes and congestion on the host freeways, as well as, streets and highways that feed and surround the freeway corridors. In addition, the West Bay monorail system can be extended to San Francisco International Airport in a direct and seamless configuration that would enhance both airport and monorail system efficiency and value.
Example: Long Beach Port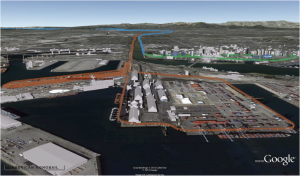 An American Monorail- proposed plan bringing together Long Beach Port operators, Burlington Northern Santa Fe Railroad and the Los Angeles County Flood Control Districts to develop a twenty mile cargo container transporting monorail system along the Los Angeles River potentially brings together a coalition of partners that is only made possible by the unique abilities and characteristics of monorail technology. This Long Beach Port-initiated system serves the interests of regional environmental authorities, who have been attempting to curtail air and water pollution generated by port trucking activities, as well as, railroad related environmental impacts, for decades. While significantly improving the efficiency and cost effectiveness of both port operators and BNSF, Los Angeles County can contribute vital, unencumbered right of way along the LA River flood control channel from the port to the main railroad yards 18 miles north in the City of Commerce. With Los Angeles County and the City of Long Beach providing governmental incentive and authority for the monorail development, local construction, banking, industry, and business interests can provide valuable support for the project, while monorail manufacturers and developers can provide state of the art monorail technology and vehicles adapted to the specific cargo-transporting function of the system.
Burlington Northern Santa Fe Railroad's role in anchoring this joint venture would open a further opportunity to the monorail's primary user to build monorail-manufacturing facilities in the vast train yards at the cargo monorail's northern terminus 20 miles from the harbor, or at BNSF's 168-acre western US transfer hub in San Bernardino. Investment in this entirely new manufacturing venture may establish a comprehensive monorail development capability that could support cargo, as well as, passenger monorail systems throughout the region, state and nation. In this way, the initial cargo monorail venture partnership could be extended to include regional and federal transportation entities and financial interests in launching a new monorail industry in the United States.
Current Projects & Initiatives

News

Recent Posts

Recent Comments